First day heading back to uni (even though I'm a
graduate
) but I got to see all my uni friends. I was so excited. Ever since I was
little
I always got along with people younger than me. Must be the immaturity in me. Last year I developed some great friendships with some fresh
kids
who were 2007 high school graduates and to tell you the truth they're a lot more mature than some of my friends from my year level.
Anyway,
Weather
: Absolutely perky, sun shining warm enough to get away with wearing less
Feeling:
Anxious - being able to see people I haven't seen in AGES
Wearing: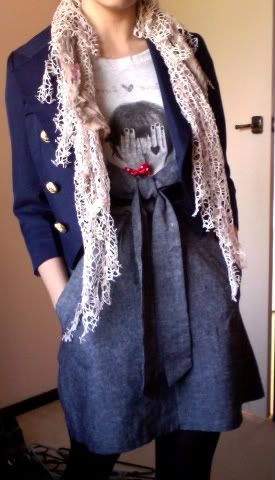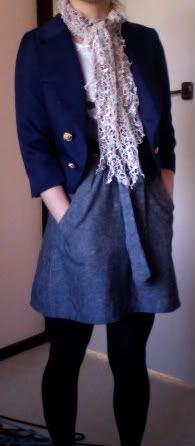 - Purple stirrups
- Black t-bar flats
- Grey tee with a girl holding her face and a cute red bow detail
- Grey denim looking material skirt dress (has straps like a dress) with a bow detail at the front
- Cream web scarf (surprisingly warm)
- Navy cropped blazer with gold gold buttons :)
At night I got reacquainted with my high school/now friendship group. After a bit of a hiatus (my holiday and then some time due to final year of studies) we laughed and dined at our
favourite
usual place and caught up on all times. Again I had overdressed, but I wore the same outfit but chucked on a
Cue navy wool coat
and changed my purple stirrups for
fleece lined black
ones.