I'm Okay.
Showcasing
IMOK
.
Currently displaying their work at
designaspace
on Chapel Street (past High St)
(designaspace 142 Chapel St)
Cute duo (Jen and Sandra) who have the cutest prints/illustrations. From what I saw they do canvas painting, watercolour paintings and printed tees. They installed themsevles in designaspace on Saturday and were painting away with their watercolours, and the designs are really cute!
Here are a few pieces: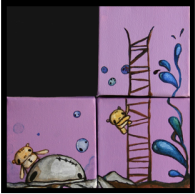 Aren't they cute!
Check out the exhibition:
What is IMOK?
at designaspace
Links:
designaspace
IMOK
(all images from imok website!)
from a dazzled delilah
x