I love being overdressed but I rarely get the chance too or feel confident enough too.
Today/Tonight I'll be overdressed. It will be rad. I'm having drinks at Hardware Lane for my birthday with the girls from my two high school, some uni peeps and my bf's friends. I'm quite the excited mainly because I haven't had a good drink in a while and the cocktails at the venue are truly amazing.
[

Hardware Lane

, Melbourne]

I have wide shoulders so I couldn't wear this by itself. I put it on and it looked so funny. Was really disappointed at first as I had my heart set on this being my birthday dress since I saw it/bought it at Topshop Oxford Circus in Feb.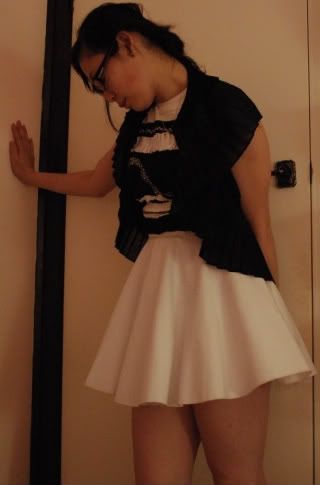 So I decided to use my Alpha60 pleat scarf. I was just throwing it around and tried it as a cape.

It looked okay, a little frumpy but better than seeing my shoulders and the tuckshop arms. I thought of putting a belt together and ended up with this: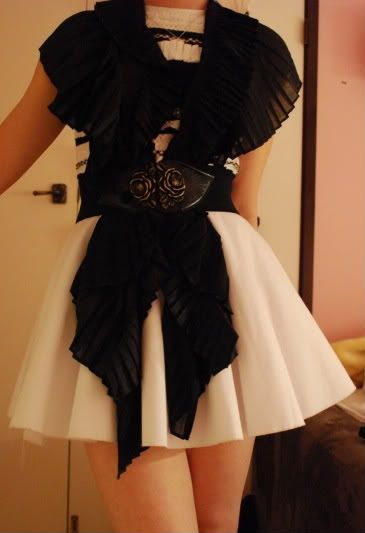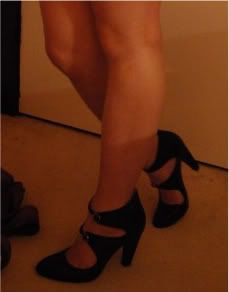 * Dress from Topshop UK
* Tony Bianco Truss heels
* Alpha60 black shiny pleat scarf
* Wide elastic belt with antique gold buckle
* Ceramic bird necklace
* Mushroom head ribbon tie thing
* Red checked wool hooded cape (not shown)
* Chanel lambskin timeless clutch
in and out kiddies.
x. delilah